Raw Indian Hair Wholesale Vendor and Manufacturer : – Indian Hair Giant is one of the Largest Raw Indian Hair Wholesale Vendor and manufacturer from IndiaWe procure raw hair directly from Indian Temples and transform them into beautiful and durable hair weaves. We have a strict no agent no middlemen policy. Once the Raw human hair is procured from the temple, we transport them to our Indian hair factory in South India where our manufacturing facility is.
We are obsessively passionate about Raw Indian Hair weaves and hence have an aversion towards chemicals and treatments. We have a RAW and conventional approach while we transform the Raw Indian Hair to beautiful cuticle aligned Human Hair weaves. The process involves no machinery until the hair is ready for wefting. Our staffs have a special love for creating beautiful strands and work passionately in every stage of manufacturing. If you want to try 100% Unprocessed Raw Indian Hair try it from One of the Largest Raw Indian Hair vendor, Indian Hair Giant!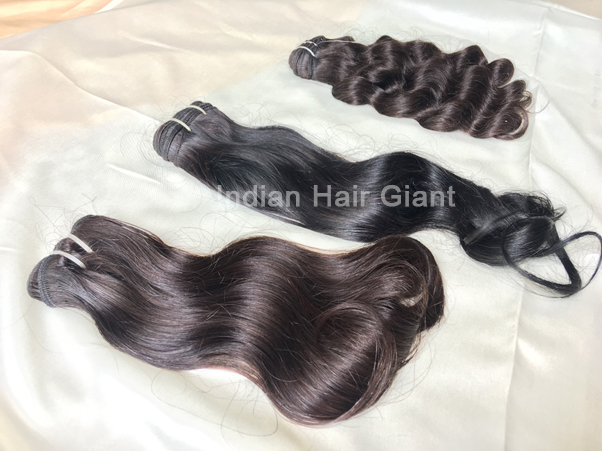 Cuticle Aligned Hair, We take pride in our efforts to maintain the cuticles in mono direction right from the procurement stage. We secure the hair with a band (ponytail) before shaving the hair from the donor to avoid mix up of head and tail within the bundle. This bundled up hair is then transported to the factory, which is washed with herbal shampoo and conditioner, rinsed and sundried. The dried hair is then sorted according to the sizes and weaved into beautiful weaves. We use triple wefting technique to secure the wefts which significantly reduces the shedding to Zero.
The wefted hair is passed to our quality control team where every bundle is individually checked for any lice or nits and are separated and sent to a team who hygienically remove them and send to a second team for assessment. Bundles which passes the QC will be washed, deep conditioned and packed.
Our Mission:
To create Raw Hair weaves which lasts a lifetime, yes we mean it!
Our promise:
we promise 100% unprocessed RAW hair – that simple!
Essence:
Cuticle aligned hair
Single donor Hair
Unprocessed hair, can be dyed bleached or permed
No shedding
Natural textures
Wholesale Raw Indian Hair Vendor – Indian Hair Supplier – Indian Hair Factory